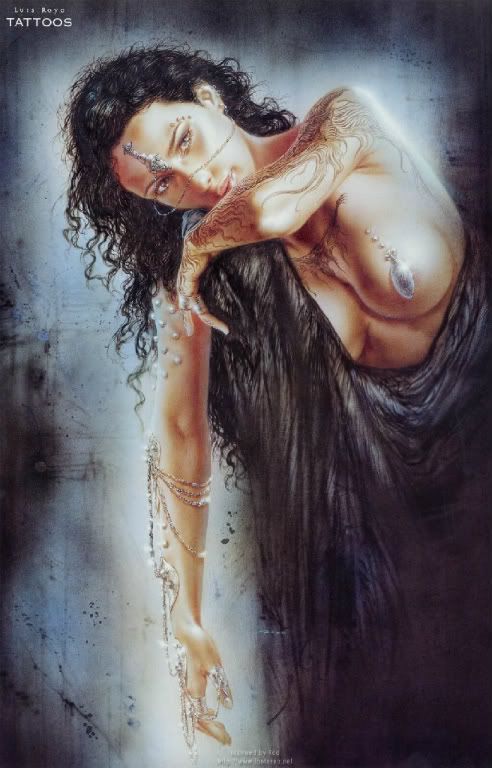 I hope that all of you out there has had a wonderful Samhain and is enjoying the descent of the Goddess.  While I have my own things and traditions that I do every year to celebrate Samhain, usually involving bones, blood, and boners, this year I focused on jewels and jewelry.  I made a beautiful Dark Goddess bracelet for myself out of black pearls, garnets, and hematite, with a scarab at its focal point.  I've had the scarab bead since I was in first grade and went to the King Tut exhibit at the Mint Museum in Charlotte, NC.  Then later that day I got to see my first dead body at Discovery Place.  They had a complimentary exhibit about mummification, and they had on display in a glass box a partially unwrapped mummy.  Somehow or another I've managed to keep the scarab safe and with me all these years, and until this Samhain I never had the urge to use it.
The Descent Goddess, Inanna, Ishtar, Isis, She who is known by a multitude of names and incarnations, is often depicted with either bared breasts or bejeweled breasts, symbolizing not only sexuality but also her loss self and ego at the gates of the Underworld.  And who doesn't love pretty titties with glimmering jewels on them?
Making sacred jewelry is a great way to connect with deity.  However, not everybody has time or talent to devote to the practice.  There is nothing wrong with commissioning pieces of sacred jewelry.  Although many "traditional" magic practitioners insist that all magical pieces should be hand made by the user or significantly altered, that is just not always practical or possible.  If you commission a piece, is the intent not the same?
Helaine,  the artist and owner of Subsensual Jewels, is just the person to help you out with a commissioned piece so that your own sacred breasts can be just as glittering as Inanna's were.  Rather have a glittering vulva or scrotum?  Not a problem.  Helaine has come up with this ingenious design for non-pierced nipple and genital jewelry.  Instead of the loops of metal and elastic that you typically see in non-pierced nipple jewelry, Helaine uses magnets.  Not only do these magnets keep the jewelry in place, but they can also be magically used to attract things to you: love, desire, money, etc. (Beware what you attract!)  Now is the perfect time to put in your custom order for sacred kink jewelry because Subsensuals had such a successful summer of vending that they are sold out of jewelry and Helaine is busy making new pieces to sell.  Want a set of Lapis nipple jewels to celebrate Inanna?  She can make them!  Want a pretty piece of hematite to attach to your genitals to keep you grounded enough to succeed at Tantric sex?  She's got you covered!  She loves taking custom orders, and the prices for custom pieces are comparable to her already made pieces, but she prefers to use her own materials rather than materials sent in by customers.  This is so that she can ensure that the materials used are safe for contact with a person's delicate skin (although I hope that one day she'll make me a pair of Wolfsheim nipple adornments from my wisdom teeth since I never wear blouses that require cuff links).  The sensation of the jewelry itself can be used with a partner or by yourself to draw up energy in a ritual.  Place the jewelry on your body during the invocation of your intent and then as you build up your magical energy, the physical sensations will grow until it's time for you to release your energy for your magic when you remove the jewelry.  To cleanse your jewelry in between ritual uses, rinse under cold water, dry well with a towel, and recharge your pieces under the light of the moon.
As you can see, your custom sacred kink ritual jewelry is only encumbered by your imagination!  Visit Subsensuals website: http://www.subsensuals.com/ to contact Helaine about a custom piece or visit her and Subsensual Jewels on Facebook, Instagram, or FetLife.
Still not sure?
"At first I did not even feel them on. They were very comfortable, in fact I wore them underneath my top at the munch and no one even knew it. Over time the magnets kept drawing closer and the intensity grew stronger. As I passed one hour the pain started to really set in between 60-90 minutes it was very strong. Overall I absolutely Love them!!!!!"
–Ladywithalens

"I just have to take a moment to talk about some of the body jewelry made by Subsensuals….If you are looking for a specific erotic look that is unique to your Submissive you are certainly in the right place. My experience with the nipple jewelry was most erotic, it was both erotic for the submissive and myself. The jewelry allows for that look but also allows the build of sensation as you come into and build with in a scene, whether its prior or during. It allows time for placement and time for the submissive to accept the slow and growing build as the magnets continue to pull in tighter and tighter… A perfect gift for that someone special in your lifestyle."
–Lobo
Now let's dance around and pay some bills:
Make sure to mention me, Sparrow Brown, in the subscription comments so that I can get paid!  Make sure to check out my column and articles in the December issue!
The next party is December 5!