I finished Logos this afternoon by John Neeleman, and I have to say it's a long read.  Most of that length, however,is necessary as a story vehicle.  Neeleman takes you on a walking tour of the main character Jacob's life, from childhood until an ultimately happy ending (more on that later).  The story starts in the opulence of Roman occupied Jerusalem and ends in the opulence of Rome.  Along the way are sojourns in the barren deserts of Palestine and the lush oasises of the Levant.  The landscape itself is featured so often that it is a major character central to the plot.  The character of Jacob, a rich Jew and son-in-law of Ananias of Bible fame, goes from having everything, to having nothing, to slowly climbing his way back onto the top, very similar to Barabbas.   He even comes to a reconciliation with the Christians at the end, just like Barabbas.  However, Jacob is an emotional child through out much of the book.  He reflects a lot of men and people.  He rages when he should be calm and loses his nerve when he needs it the most.  While the loss of nerve is a realistic character trait, Jacob's naivety and ability to be easily won over by those that have terribly altered his life is somewhat beyond the suspension of disbelief.
Logos deals not only with one man's life journey, but also with the fictionalized lineage of the Christian faith.  Turns out the Baptists were wrong.  The story of Christ is just a made up story, pulled from tidbits of reality, the myths of the Middle Eastern world, and the Jewish belief in a Messiah.  Modern Pagans have been saying this for years.  While of course this is a figment of Neeleman's imagination, this story is very plausible.  And, just as I always suspected, Paul is a very slimy person and a liar.  And gay.  In fact a lot of these characters come across as gay, bi, and into dominance and submission.  Of course, in reality, that's the whole of the Roman world.  Although Jacob has three wives, one legal and two common law, he still engages in common adolescent and early adult bi-curiosity. Jacob is often put into positions of power and expected to be dominant, but he is never able to fulfill that role and constantly defers to the Alphas around him.  He may look like a bear for most of the novel, but all he really wants to be is a cub.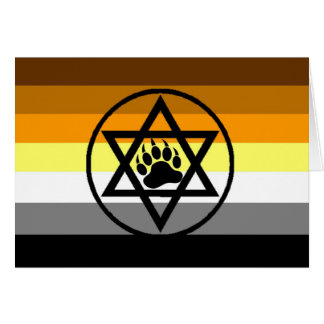 Neeleman never gives in to the temptation to explore the homosexuality that is constantly poking at the robes of this novel begging to get out, but he does indulge his readers in several incredibly hot heterosexual sex scenes, which is wonderfully refreshing.  Sex between Jacob and Hannah, the legal first wife, is very kosher and married.  Sex between Jacob and Maryam, his second wife, is fiery and wild, just like the sand they lie in.  Sex between Jacob and Hypathia, his third wife, is opulent and bestial.
It helps to have a small background in Biblical history, but it's not necessary.  If you want to read related books, I suggest Agrippa's Daughter by Howard Fast, and Dr. Hillman's double trouble duo: Original Sin and Hermaphrodits, Gynomorphs, and Jesus.  
So, what about this ending I alluded to?  Well, the ending had such promise to go so many ways, yet in the end it went the way you could see it headed toward, which left me a little disappointed.  I had really hoped that Jacob would finally get a steel rod for a backbone, but Neeleman never gave him one.
Info From Novel Publicity–I didn't write any of the Following stuff, just an FYI
About the Book – About the Author – Prizes!!!
About the prizes: Who doesn't love prizes? You could win one of two $50 Amazon gift cards or an autographed copy of LOGOS! Here's what you need to do…
Enter the Rafflecopter contest
Leave a comment on another participating blog:
That's it! One random commenter during this tour will win the first gift card. Visit more blogs for more chances to win–the full list of participating bloggers can be found HERE. The other two prizes will be given out via Rafflecopter. You can find the contest entry form linked below or on the official LOGOS tour page via Novel Publicity. Good luck!
About the book: While novels and cinema have repeatedly sought after the historical Jesus, until now none have explored what may be a more tantalizing mystery—the Christian story's anonymous creator. Logos is a literary bildungsroman about the man who will become the anonymous author of the original Gospel, set amid the kaleidoscopic mingling of ancient cultures. Logos is a gripping tale of adventure, a moving love story, and a novel of ideas. None of this should be regarded as out of place or incompatible in a novel about Christianity's origin. Dissent, anarchism, and revolution—and incipient Christianity was no less these things than the Bolshevik, the French or the American revolutions—inevitably have involved ideas, adventure, and romance.
In A.D. 66, Jacob is an educated and privileged Greco-Roman Jew, a Temple priest in Jerusalem, and a leader of Israel's rebellion against Rome. When Roman soldiers murder his parents and his beloved sister disappears in a pogrom led by the Roman procurator, personal tragedy impels Jacob to seek blood and vengeance. The rebellion he helps to foment leads to more tragedy, personal and ultimately cosmic: his wife and son perish in the Romans' siege of Jerusalem, and the Roman army destroys Jerusalem and the Temple, and finally extinguishes Israel at Masada. Jacob is expelled from his homeland, and he wanders by land and sea, bereft of all, until he arrives in Rome. He is still rebellious, and in Rome he joins other dissidents, but now plotting ironic vengeance, not by arms, but by the power of an idea.
Paul of Tarsus, Josephus, the keepers of the Dead Sea Scrolls, and even Yeshua, the historical Jesus himself, play a role in Jacob's tumultuous and mysterious fortunes. But it is the women who have loved him who help him to appreciate violence's dire cycle.Get LOGOS through Amazon, or Barnes & Noble.
About the author: John Neeleman spends his days working as a trial lawyer in tall buildings in downtown Seattle. He lives in Seattle with his wife and children. He also represents death row inmates pro bono in Louisiana and Texas. As a novelist, his editorial model is historical fiction in a largely realistic mode, though there are hallucinatory passages that reflect Neeleman's concern with philosophical and spiritual matters, in part a residue of his religious upbringing. He was raised as a seventh generation Mormon, and rebelled, but never outgrew his interest in metaphysical concerns.
Connect with John on his publisher's website, Facebook, Twitter,or GoodReads..
a Rafflecopter giveaway
The Barbed Pentacle Giveaway
a Rafflecopter giveaway
Paying the Bills, upcoming Events, and For Your Information