"The foulest Babylonian custom is that which compels every woman of the land to sit in the temple of Aphrodite and have intercourse with some stranger at least once in her life. Many women who are rich and proud and disdain to mingle with the rest, drive to the temple in covered carriages drawn by teams, and stand there with a great retinue of attendants. But most sit down in the sacred plot of Aphrodite, with crowns of cord on their heads; there is a great multitude of women coming and going; passages marked by line run every way through the crowd, by which the men pass and make their choice. Once a woman has taken her place there, she does not go away to her home before some stranger has cast money into her lap, and had intercourse with her outside the temple; but while he casts the money, he must say, "I invite you in the name of Mylitta" (that is the Assyrian name for Aphrodite)."  Herodotus via Wikipedia (https://en.wikipedia.org/wiki/Sacred_prostitution)
"Temple prostitutes were revered as healers of the sick. Their very secretions were supposed to have medical virtue. A Sufi proverb still suggests this opinion: There is healing in a woman's vagina. Even their spittle could perform cures. Jesus's cure of blindness by spittle (Mark 8:23) was copied form a matriarchal tradition. A clay tablet from Nineveh says eye disease can be cured by a harlot's spittle. Harlots were sorceresses, prophets, and seers. The Hebrew word zonah means both a prostitute and a prophetess." From "Journey of the Lotus" (http://thejourneyofalotus.blogspot.com/2009/05/sacred-whores-temple-harlots-and-holy.html)
I was sent forth from the power,
and I have come to those who reflect upon me,
and I have been found among those who seek after me,
Look upon me, you who reflect upon me,
and you hearers, hear me.
You who are waiting for me, take me to yourselves
And do not banish me from your sight…
For I am the first and the last
I am the honored one and the scorned one,
I am the whore and the holy one…
I am the silence that is incomprehensible
and the idea whose remembrance is frequent.
I am the voice whose sound is manifold
and the word whose appearance is multiple.
I am the utterance of my name…
……………………………………………………..
I am the one whom they called Life
and you have called Death.
I am the one whom they call Law
and you have called Lawlessness.
I am the one you have pursued
and I am the one whom you have seized.
I am the one whom you have scattered
and you have gathered me together.
–From The Thunder, Perfect Mind THE NAG HAMMADI LIBRARY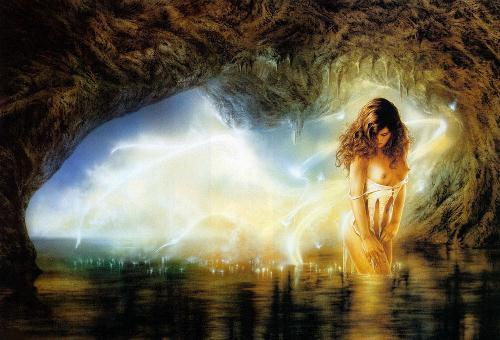 The Holy Whore is "a woman, who, through ritual or psychological development, has come to know the spiritual side of her sexuality, her true Eroticism, and lives this out according to her individual circumstances." –Jungian psychologist Nancy Qualls-Corbett
The concept of a sacred prostitute is a very ancient one that seems to transcend time and space.  Although we commonly think of the sacred prostitute as being a Middle Eastern/Mediterranean concept, it was actually practiced in many cultures all over the world.  Some cultures still practice this concept, largely unchanged from antiquity.  Others, such as the United States, have forgotten the sacredness of prostitution and shun whores.  There is a growing movement in the world to reclaim sacred prostitution and to use it as a way of paying tribute to the Great Goddess who is ALL.  There seems to be a need and a yearning in society now not only to visit and utilize holy prostitutes but also for women and men to embrace the concept and practice it awhile themselves.
Let me be your hierdoule.  There are many things that I can do for you as a sacred whore.  I can bring you sexual stimulation and excitement through stories and messages.  I can help you transcend this plane of existence to communicate with your Deities through divination and sexual shamanism.  As Aphrodite's little brown sparrow, I can help you tap into untold powers.

For divinatory readings, amulets, healings, and shamanic work, please email me at chirpatsparrow@gmail.com so that we can discuss what you're looking for and what I will require in tribute. A great deal of my services involve a variety of different types of magics from a variety of traditions. How do I figure out how much my hierodoule services will cost you?  Here's the formula: the value of my time+the complexity of the work+materials+plus shipping costs+monetary offering to Aphrodite given to COYOTE or another oraganization/charity that supports sex workers=price of service  Ultimately, Aphrodite approves all the prices since she is the Supreme Madame and runs a clean house.  Please note:  Rush jobs maybe extra.  Also, there is a dick-wad asshole/cuntfaced bitch fee.  Please be sweet so as not to occur this penalty!  Payment in full is required before services will begin.
Divination Services: 
A simple reading consists of me using one form of divination to answer one question.  $5
A complex reading consists of me using one or more forms of divination to answer a series of related questions.  $20
Oracle services consist of me using chemicals and sexual shamanism to become an oracle to the Deities for the benefit of answering your questions.  These sessions take some time and are stream of conscious based.  It is left up to you to understand the wisdom given during this time.  You will receive an audio recording of the session.   $100
Email your amulet requirements
Personalized Boudoir Stories:  http://barbedpentacle.com/sponsors-click-click-click-click-click/209-2/personalized-boudoir-stories/ ‎
Need someone to pimp out your business, event, or cause? http://barbedpentacle.com/sponsors-click-click-click-click-click/209-2/
My work on Patreon: https://www.patreon.com/sparrowbrown
To Pay Tribute
Sparrow's Amazon Wish List: http://www.amazon.com/gp/registry/wishlist/LQ2YYVVXEFV2/ref=cm_wl_huc_view
Sparrow's Wish List Board on Pinterest: https://www.pinterest.com/pagandd/sparrow-browns-wish-list/
Sparrow's Wish List on Eden Fantasys: http://www.edenfantasys.com/CustomerWishList.aspx?WLID=380fade7-892f-4091-90a3-b193fef09390
Sparrow's Wish List on Stock Room: https://secure.stockroom.com/wishlist/wishlistShared.aspx?sharedWishlistCode=6128564
Support reform of prostitution laws: http://www.coyotela.org/what_is.html