Hot, fresh Krispy Kreme doughnuts straight off the conveyor belt are one of my favorite things.
In fact, they cause the same physical, mental, and psychological responses in my body that I experience during an extremely intense orgasm.  My brain floods with endorphins,  my eyes roll to the back of my head, my doughnut spasms, and I spill over with my very own sugar glaze.
If you don't believe me, ask the Krispy Kreme workers.  There are hundreds of them running around the Southeastern US that have seen my cute O face and heard my sighs of pleasure.  And it has to be Krispy Kreme.  Those Yankee carpetbagging cake doughnuts from Dunkin' Doughnuts do absolutely nothing for me except to make me want to start humming "Dixie".
Today, June 5th, is National Doughnut Day.  It's nothing but a ploy by the pastry industry to make you fat and penniless.  However, here at  "The Barbed Pentacle", we are going to start a new tradition:  The Sweet Great Rite!  The Sweet Great Rite should be celebrated whenever you feel hungry and frisky, not just on June 5th!  Why the Sweet Great Rite?  Well, let's be honest.  A doughnut is nothing but an edible facsimile of a vagina, just like a taco.  It has a hole, it's sweet and yielding, and you just stick your tongue through the hole and start gobbling.
If it's a hole-less doughnut, then it must be a virgin.  Take care not to hurt it too much as you pop that hymen and suck the sweet creamy goodness out!  Just only have doughnut holes?  Then you suck.  You got the sloppy seconds.  Plus, doughnuts come in a box that seems absolutely endless until there's nothing left and you've hit the cervix.
What about things like eclairs and those long twisty pastry things?  They're pastry penises that love penetrating lusciously sweet doughnuts all morning long.  They can plow through a dozen at a time.
Now, if the female twat doesn't arouse you, doughnuts can also be male twats, also known as assholes.
I'm pretty sure, based on my different drug-induced hallucinations, that eating a fresh Krispy Kreme doughnut is just like eating out the Goddess.
It's hot and steamy, the pastry yielding gently and willingly to my tongue and teeth, sweet glaze dripping everywhere in obscene pleasure…….
The Sweet Great Rite can be celebrated in several different ways.  The most fun way is to take your fried yeast doughnut and lay it on your partner's orifice.  Then start the fucking, with whatever you normally use.  If you're not equipped with a penis or a dildo, get a pastry penis!  Then just eat and fuck your way to a sweet and sticky orgasm.  Remember, if you're truly doing the Great Rite, you need to open yourself up to the energies of the Lord and Lady, in whatever aspect you worship them in.  Otherwise it's just food sex, which is fun too.  If you're by yourself, well I'm sure you can get creative.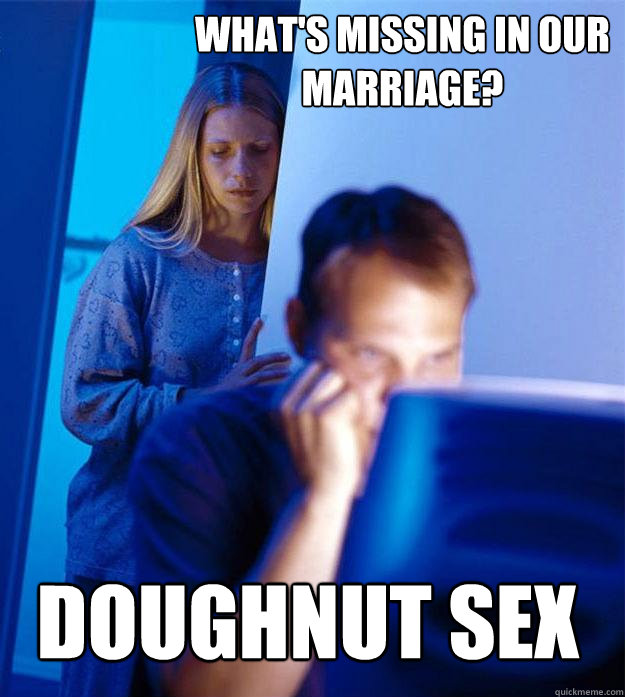 Sponsor a Party!  http://barbedpentacle.com/sponsors-click-click-click-click-click/party-sponsor/